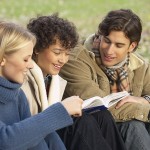 Col­lege not only poses a need for aca­d­e­mic adjust­ment, but an adjust­ment to a new lifestyle. Jug­gling a new sched­ule and expec­ta­tions that go along with it can take its toll on fresh­men emo­tion­ally, phys­i­cally, and aca­d­e­m­i­cally. Many col­leges are attuned to this tran­si­tion and offer sup­port to fresh­men in a vari­ety of ways.
Dorms have trained per­son­nel called res­i­dent assis­tants or RA's assigned to help stu­dents with every­day issues includ­ing room­mate issues, school rules and guide­lines, activ­i­ties, and other school com­mu­nity issues. "Melt­downs" or emo­tional dis­tress can occur due to grade pressure.
Men­tal health cen­ters on cam­pus offer coun­sel­ing ser­vices from licensed psy­chol­o­gists and psy­chi­a­trists for coun­sel­ing issues such as depres­sion, eat­ing dis­or­ders, anx­i­ety, chem­i­cal depen­dency, and so on. If stu­dents need med­ical atten­tion, the med­ical cen­ters on cam­pus can han­dle those requests. There are a vari­ety of spir­i­tual cen­ters that can also offer sup­port to stu­dents who want to con­tinue involve­ment in their faith life, attend­ing retreats, and com­mu­nity ser­vice oppor­tu­ni­ties. Career Cen­ters are open to stu­dents inter­ested in career explo­ration, intern­ships, resume build­ing, study abroad oppor­tu­ni­ties, and appli­ca­tions to grad­u­ate school. The fol­low­ing list includes a col­lec­tion of sug­ges­tions made by upper­class­men for incom­ing freshmen.
Moving-in day can be stress­ful. Don't yell at your par­ents; they are try­ing to help you. Pack light!
If your dorm does not have air con­di­tion­ing, bring fans!
Attend ori­en­ta­tion activ­i­ties; you will have plenty of times to do other activ­i­ties later –estab­lish a life on campus.
Main­tain con­tact with fam­ily and friends via email, tex­ting, or phone calls. This will reduce his or her anx­i­ety and fears. Check pri­vacy set­tings on Face­book and watch what you post on your wall.
Find a bal­ance between keep­ing con­tact with the friends from home and new friends at col­lege. Avoid "drama", gos­sip, and con­front issues before they get too big. A word on room­mates – set rules you could agree on, com­mu­ni­cate, be con­sid­er­ate, be flex­i­ble, and be respectful.
Make a good first impres­sion and remem­ber names – think ahead to intern­ship oppor­tu­ni­ties or who could write you a let­ter of rec­om­men­da­tion in the future.
Net­work with all types of peo­ple includ­ing your aca­d­e­mic advi­sor, pro­fes­sors,

RA

, reg­is­trar, and bur­sar in busi­ness office.
Study, study, study! Find a com­fort­able place to do your study­ing where you will not be dis­turbed – attend class and keep orga­nized notes– take respon­si­bil­ity for your own learn­ing. Join a study group.
Avoid peer pres­sure; don't worry about what oth­ers think about you. Stay safe, respect each other – you are respon­si­ble for your actions. Don't do drugs or use alco­hol ille­gally; they will ruin your future!
Mon­i­tor spend­ing— keep your­self on a budget—know the cost of your liv­ing, give your­self an allowance, orga­nize receipts, be fru­gal, under­stand your debt load, avoid credit cards, and watch out for iden­tity theft.
Remem­ber, ask for help! You don't have to go it alone.