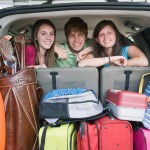 Seniors, you are count­ing down the days until the end of the school year. You wait in antic­i­pa­tion of pack­ing up the car and head­ing down the road to your new life at col­lege. Every­thing seems to be the last — the last dance, the last pep rally, the last set of finals, and lastly, say­ing good­bye to friends and family.
This sum­mer you will be busy pack­ing, tex­ting your new room­mate to coor­di­nate what to bring, reg­is­ter­ing for classes, and spend­ing time with close friends. Mean­while, your par­ents are start­ing to feel neglected. This time is bit­ter­sweet for them. Though they are happy to see you pur­su­ing your dreams, they can't imag­ine their home with­out you.
Know­ing the bird has to leave the nest, there are a few things you and your par­ents can do to help each other dur­ing this time of tran­si­tion. Let one another know you love each other and they will be missed, your rela­tion­ship has been mean­ing­ful, and the tran­si­tion to the next stage of life with be weath­ered. You are only a phone call or text mes­sage away.
So, here are some guide­lines for the mak­ing the most of your time together before the great depar­ture:
• Acknowl­edge your mixed emo­tions
• Talk about this new stage of life
• Trust your par­ent­ing skills and trust in your child's abil­ity
• Know there will be chal­lenges and suc­cesses
• Spend­ing times with friends is nat­ural
• Ten­sion and dis­agree­ments might arise the closer you get to the sep­a­ra­tion
• Set up times to con­nect; par­ents don't always expect answers to your emails
• You have given each other a great gift– the devel­op­ment of a respon­si­ble, young adult
• Deal with the money talk
• Buy tis­sues for the tears that might be shed
Par­ents may need to get reac­quainted with each other. Remem­ber to rest, exer­cise, and recon­nect with friends. Fol­low your pas­sion. Set a sched­ule for com­mu­ni­ca­tion with your child. Take a deep breath, and start to enjoy the next phase of YOUR life!