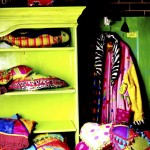 What are the three biggest con­cerns fac­ing col­lege fresh­men when it comes to set­ting up a dorm room? Work­ing within a bud­get, cop­ing with a small space, and learn­ing how to manip­u­late the stan­dard, ugly dorm room fur­ni­ture.  So, what can you do to a room which you aren't allowed to paint, with walls you can't nail objects into, and two-of-a kind beds, dressers and desks? Learn more about how to make your space com­fort­able, bring a lit­tle bit of home with you, and cre­ate stor­age area which is essential.
Quick Tips for Those on a Budget!
Can't paint? Use chalk to draw on the walls – you can erase it later with baby wipes or a dry eraser.
Try fab­ric on walls by using corn starch mixed with water. Apply the mix­ture to wall, smooth it out and watch how the fab­ric sticks to it. It's all nat­ural and comes right off with­out remov­ing paint. This is an easy way to get color and tex­ture in your room.
Check your local thrift stores or pick up items at a swap meet.
Be sure your fur­ni­ture is mul­ti­func­tional. For exam­ple, a portable stool may dou­ble as an end table.
For drapes with­out using screws — use small hooks with adhe­sive that pulls off wall when you are ready to move.
Dress up your table or desk with wall paper, wrap­ping paper, or place mats, and cover it with plex­i­glass — this allows you to switch images out and stay fresh.
Want a unique bed­spread? Buy a plain white com­forter and use fab­ric paint to design your focal point.
Instead of sta­ples use dorm tape to adhere pho­tos to walls or hang a series of clip boards and switch out the pic­tures as events change.
Art work – use recy­cled items. Be cre­ative with toi­let paper rolls to design wall artwork.
Make unique shelves by screw­ing old draw­ers together and giv­ing them a coat of paint.
Dec­o­rate your walls by check­ing out the Dol­lar Stores for cheap frames.
Com­mu­ni­cate with your room­mate ahead of time so you don't bring duplicates.
It 's a Small Space!
A lot smaller than what you are use to. So, how do you cope with this?
Use items that reflect – mir­rors can make the room look larger.
Con­sol­i­date by watch­ing

TV

on lap­top instead of a large screen.
Make a bed a coach when not sleep­ing on it – add a throw blan­ket and some pillows.
Orga­nize your space by using bins, shoe trees, and stack stor­age boxes.
Buy some bed ris­ers to cre­ate space under your bed or loft-up your bed to cre­ate more space.
Try mov­ing the fur­ni­ture around.
A rolling cart can dou­ble as a towel rack.
Hide clut­ter if you don't have a closet door by hang­ing a drape that can be pulled closed.
Use wall space — go up and out and under to cre­ate space
Use small rolling stor­age draw­ers under desk – they can be eas­ily moved.
Laun­dry bas­ket or shoe rack that hangs can dou­ble for stor­age units.
Keep your col­ors to three– any more will make your space too busy.
Layer col­ors at ground, mid, and eye level.
Deal­ing with ugly, stan­dard fur­ni­ture – any suggestions?
Want a good night's sleep? Try adding a pillow-top to your dorm mattress
Since all dorms rooms tend to look the same, make it more excit­ing by mak­ing the bed stand out with throw blan­ket and col­or­ful pillows.
Buy a vin­tage office chair to replace your stan­dard one.
What about a cool rug? If you don't have a rug, con­sider using floor tiles – they stick together, but not to floor.
Try mov­ing your dresser into the closet to give you more space for a fea­tured item, like a com­fort­able chair.