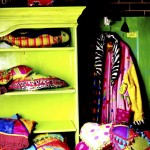 What are the three biggest concerns facing college freshmen when it comes to setting up a dorm room? Working within a budget, coping with a small space, and learning how to manipulate the standard, ugly dorm room furniture. So, what can you do to a room which you aren't allowed to paint, with walls you can't nail objects into, and two-of-a kind beds, dressers and desks? Learn more about how to make your space comfortable, bring a little bit of home with you, and create storage area which is essential.
Quick Tips for Those on a Budget!
Can't paint? Use chalk to draw on the walls – you can erase it later with baby wipes or a dry eraser.
Try fabric on walls by using corn starch mixed with water. Apply the mixture to wall, smooth it out and watch how the fabric sticks to it. It's all natural and comes right off without removing paint. This is an easy way to get color and texture in your room.
Check your local thrift stores or pick up items at a swap meet.
Be sure your furniture is multifunctional. For example, a portable stool may double as an end table.
For drapes without using screws – use small hooks with adhesive that pulls off wall when you are ready to move.
Dress up your table or desk with wall paper, wrapping paper, or place mats, and cover it with plexiglass – this allows you to switch images out and stay fresh.
Want a unique bedspread? Buy a plain white comforter and use fabric paint to design your focal point.
Instead of staples use dorm tape to adhere photos to walls or hang a series of clip boards and switch out the pictures as events change.
Art work – use recycled items. Be creative with toilet paper rolls to design wall artwork.
Make unique shelves by screwing old drawers together and giving them a coat of paint.
Decorate your walls by checking out the Dollar Stores for cheap frames.
Communicate with your roommate ahead of time so you don't bring duplicates.
It 's a Small Space!
A lot smaller than what you are use to. So, how do you cope with this?
Use items that reflect – mirrors can make the room look larger.
Consolidate by watching TV on laptop instead of a large screen.
Make a bed a coach when not sleeping on it – add a throw blanket and some pillows.
Organize your space by using bins, shoe trees, and stack storage boxes.
Buy some bed risers to create space under your bed or loft-up your bed to create more space.
Try moving the furniture around.
A rolling cart can double as a towel rack.
Hide clutter if you don't have a closet door by hanging a drape that can be pulled closed.
Use wall space – go up and out and under to create space
Use small rolling storage drawers under desk – they can be easily moved.
Laundry basket or shoe rack that hangs can double for storage units.
Keep your colors to three- any more will make your space too busy.
Layer colors at ground, mid, and eye level.
Dealing with ugly, standard furniture – any suggestions?
Want a good night's sleep? Try adding a pillow-top to your dorm mattress
Since all dorms rooms tend to look the same, make it more exciting by making the bed stand out with throw blanket and colorful pillows.
Buy a vintage office chair to replace your standard one.
What about a cool rug? If you don't have a rug, consider using floor tiles – they stick together, but not to floor.
Try moving your dresser into the closet to give you more space for a featured item, like a comfortable chair.