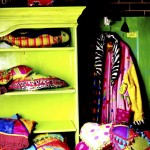 What are the three biggest con­cerns fac­ing col­lege fresh­men when it comes to set­ting up a dorm room? Work­ing within a bud­get, cop­ing with a small space, and learn­ing how to manip­u­late the stan­dard, ugly dorm room fur­ni­ture.  So, what can you do to a room which you aren't allowed to paint, with walls you can't nail objects into, and two-of-a kind beds, dressers and desks? Learn more about how to make your space com­fort­able, bring a lit­tle bit of home with you, and cre­ate stor­age area which is essential.
Quick Tips for Those on a Budget!
Can't paint? Use chalk to draw on the walls – you can erase it later with baby wipes or a dry eraser.
Try fab­ric on walls by using corn starch mixed with water. Apply the mix­ture to wall, smooth it out and watch how the fab­ric sticks to it. It's all nat­ural and comes right off with­out remov­ing paint. This is an easy way to get color and tex­ture in your room. Click here for tips on dec­o­rat­ing a small, bor­ing space on a budget.