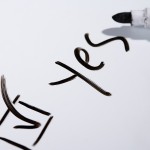 Score Choice allows the stu­dent to for­ward the scores they choose to the col­leges or uni­ver­si­ties they are apply­ing to.  So what does a stu­dent need to know about this policy?
Here are some items to think about: SAT Rea­son­ing and Sub­ject test scores can be sub­mit­ted by test date. If a stu­dent does not choose Score Choice, all scores will be sent to the col­lege. Score Choice is optional. Stu­dents should fol­low the score-reporting require­ments of the col­leges they are apply­ing to. Col­leges will only receive the scores that the stu­dent sends to them. Indi­vid­ual sec­tions of a spe­cific test date can­not be selected—only the entire test of the par­tic­u­lar SAT will be sent. It does not cost more to send one or mul­ti­ple copies or all test scores to a col­lege. Scores can be sent by paper, CD, or Elec­tronic Score Reports.  If the stu­dent requests a sec­ond report to a col­lege, the report will only include the unique set of scores cho­sen by the stu­dent, which may or may not include pre­vi­ous test scores.
For more infor­ma­tion, check with the Col­lege Board.