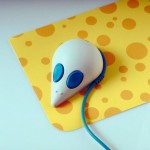 Staff Writ­ers from OnlineColleges.com wrote an arti­cle that I thought I would share with you.  They noted, "While the lap­top remains the tech tool of choice for most high school and col­lege stu­dents, many are embrac­ing portable and inno­v­a­tive tablets like the iPad. Since its release in 2010, the iPad has taken the tech mar­ket by storm and become a pop­u­lar, edu­ca­tional and fun tool for both teach­ers and stu­dents alike. It is increas­ingly infil­trat­ing col­lege edu­ca­tion, with some schools en offer­ing free iPads for enrollees."
"Whether you're a high school or col­lege stu­dent look­ing for new apps to stock your iPad or some­one just curi­ous what kind of appro­pri­ate resources are out there, start your search with these 48 great apps. Among them, stu­dents will find help with every­thing from keep­ing home­work orga­nized to find­ing the per­fect first date spot — and just about every­thing in between."
Essen­tial Tools
The staff writ­ers shared, "These apps will help turn your iPad into the ulti­mate pro­duc­tiv­ity tool, whether you're mak­ing a home movie, sketch­ing out plans for a project or writ­ing a term paper."
Edu­ca­tion
These apps have got you cov­ered when it comes to learn­ing and studying.
Com­mu­ni­ca­tion
Stay in touch with friends, fam­ily and sig­nif­i­cant oth­ers with these social media applications.
Enter­tain­ment
The iPad can be a great work tool, but it's built for enter­tain­ment, too. There are plenty of apps to suit your needs, but we sug­gest you start with these essentials.
Infor­ma­tion Management
Orga­niz­ing your research, notes and class mate­ri­als can be a pain, but these apps stream­line the process.
Orga­ni­za­tion
Never for­get an assign­ment again with the help of these great applications.
Bud­get
If you're a col­lege stu­dent on a bud­get (is there any other kind?), you'll appre­ci­ate these money-saving tools.
News
You'll be able to stay up to date with the lat­est news and fol­low your favorite blogs when you get these applications.
Get access to all the break­ing news sto­ries, videos and pho­tos on the CNN site.

An amaz­ing way to orga­nize your Twit­ter, Face­book and RSS feeds, Flip­board turns your favorite inter­net sites into a mag­a­zine you can page through.

With Pulse, you'll be able to tai­lor a news stream that meets your own interests.
---