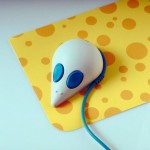 Staff Writers from OnlineColleges.com wrote an article that I thought I would share with you. They noted, "While the laptop remains the tech tool of choice for most high school and college students, many are embracing portable and innovative tablets like the iPad. Since its release in 2010, the iPad has taken the tech market by storm and become a popular, educational and fun tool for both teachers and students alike. It is increasingly infiltrating college education, with some schools en offering free iPads for enrollees."
"Whether you're a high school or college student looking for new apps to stock your iPad or someone just curious what kind of appropriate resources are out there, start your search with these 48 great apps. Among them, students will find help with everything from keeping homework organized to finding the perfect first date spot — and just about everything in between."
Essential Tools
The staff writers shared, "These apps will help turn your iPad into the ultimate productivity tool, whether you're making a home movie, sketching out plans for a project or writing a term paper."
Education
These apps have got you covered when it comes to learning and studying.
Communication
Stay in touch with friends, family and significant others with these social media applications.
Entertainment
The iPad can be a great work tool, but it's built for entertainment, too. There are plenty of apps to suit your needs, but we suggest you start with these essentials.
Information Management
Organizing your research, notes and class materials can be a pain, but these apps streamline the process.
Organization
Never forget an assignment again with the help of these great applications.
Budget
If you're a college student on a budget (is there any other kind?), you'll appreciate these money-saving tools.
News
You'll be able to stay up to date with the latest news and follow your favorite blogs when you get these applications.
Get access to all the breaking news stories, videos and photos on the CNN site.

An amazing way to organize your Twitter, Facebook and RSS feeds, Flipboard turns your favorite internet sites into a magazine you can page through.

With Pulse, you'll be able to tailor a news stream that meets your own interests.
---