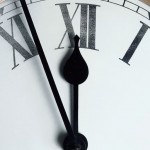 The clock is tick­ing down and the April 1st has arrived. High school seniors across the coun­try are check­ing their email and mail­boxes for the admis­sions deci­sions from the col­lege they applied to. Many stu­dents may receive more than one accep­tance. The stress and the cost of col­lege is a major deci­sion, so for stu­dents who can­not make up their mind where to go, they may con­sider dou­ble depositing.
What is the def­i­n­i­tion of dou­ble deposit­ing? Dou­ble deposit­ing means putting down a deposit, and thus accept­ing admis­sion, at more than one college.
I often hear, "This deci­sion is not easy!" Or "I love all my schools for dif­fer­ent rea­sons." Stu­dent re-visit their col­leges and look to teach­ers and friends (and even par­ents) for guid­ance. So what do they do? Send­ing a non-refundable enroll­ment deposit check can cost as lit­tle as $100, while at oth­ers it can be as much as $500 or $1,000 can be costly, but the stu­dent just can't decide. Read more about the Dou­ble Deposit­ing and eth­i­cal issues sur­round­ing it.