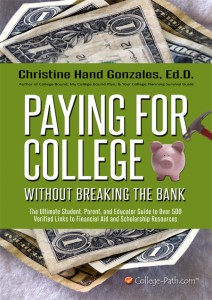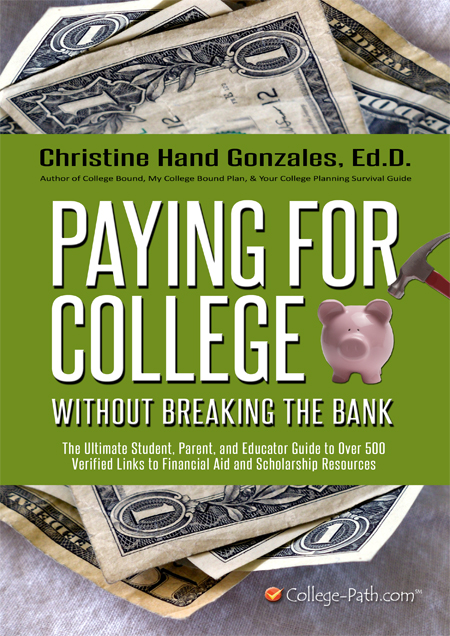 Pay­ing for Col­lege With­out Break­ing the Bank: The Ulti­mate Stu­dent, Par­ents, and Edu­ca­tor Guide to Over 500 Live Links to Finan­cial Aid and Schol­ar­ship Resources by Chris­tine M. Hand Gon­za­les, Ed.D.
Avail­able in eBook for $4.99 and paper­back for $9.99! Click here for Ama­zon. Also on BarnesandNoble.com.
Pay­ing for Col­lege With­out Break­ing the Bank takes you through the col­lege plan­ning time­line and the finan­cial aid appli­ca­tion process along with addi­tional tips and resources. It will show ways to approach coun­selors, teach­ers, or mod­er­a­tors to request an effec­tive let­ter of rec­om­men­da­tion, and give tips on self-marketing through the schol­ar­ship appli­ca­tion essays. It will help you:
Cal­cu­late the actual costs of college
Increase your chances of receiv­ing aid
Com­pare aid offers and learn how to appeal if needed
Plan strate­gi­cally as an inde­pen­dent stu­dent or divorced or sin­gle parent
Avoid costly mis­takes when applying
Learn tips for com­plet­ing the required fed­eral form, the FAFSA
Under­stand the "nuts and bolts" of finan­cial aid, and where to find scholarships
Access an exten­sive and incom­pa­ra­ble list of pub­li­ca­tions and Inter­net resource
Click here for free down­loads Read­ing Apps from Ama­zon for PC, Mac, iPad, and other devices for Kin­dle Ver­sion. Click here for free down­load Read­ing Apps from Barnes and Noble for PC, Mac, iPad and other devices for Nook Version.