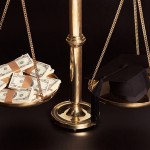 It is impor­tant to under­stand how to get the most money from the col­leges a stu­dent is apply­ing to, as aid can be need-based or merit-based.
Need-Based Aid is based on the family's finan­cial need. A fam­ily can fig­ure this amount to be the Cost of Atten­dance (COA) form the Expected Fam­ily Con­tri­bu­tion (EFC).
Points to under­stand about Need-Based Aid:
Infor­ma­tion from the Free Appli­ca­tion for Fed­eral School Aid (FAFSA) is needed. Other col­leges may require com­ple­tion of the CSS Finan­cial Pro­file; Grants do not need to be repaid; Loans will need to be paid with inter­est; Other types of Need-Based Aid include Work-Study Pro­grams, Perkins Loan and Sub­si­dize Stafford Loan, and the Fed­eral Sup­ple­men­tal Edu­ca­tional Oppor­tu­nity Grants (FSEOG). Learn more about Merit-Based finan­cial aid.