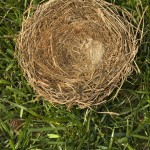 Do you find your­self tak­ing a trip down mem­ory lane while your child excite­ment builds as they pack the car to head off to col­lege, start a mil­i­tary career, or get their first apart­ment? You may feel shaky, sad, con­fused, or relieved. Par­ents react dif­fer­ently to an empty nest. It is a time of change, a time to look at your child's needs and your needs. It can be a fresh begin­ning. Here are sev­eral tips to help you cope with this period of your life.
Rest. Take some time for your­self while you adjust to the change and try to fig­ure out how you really feel. Dras­tic changes may only cause regret later, so hold off on the redecorating.
Exer­cise. If you find your­self sad or depressed, exer­cise is a way to lift your mood. Find a friend or work out buddy to help you start a new rou­tine. Avoid those fatty foods, choco­late and cock­tails. Opt for a round of yoga, aer­o­bics, weight train­ing, and healthy eat­ing. For more tips on han­dling an empty nest click here.