It's that time of year where stu­dents, par­ents, and edu­ca­tors stock their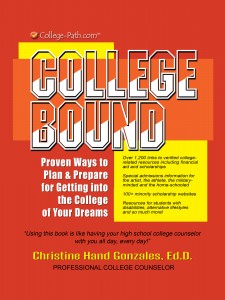 shelves with col­lege plan­ning tools. Dr. Chris­tine Hand Gon­za­les has writ­ten sev­eral books you may find help­ful to you in the col­lege search and appli­ca­tion process,  as well as the finan­cial plan­ning and schol­ar­ship search.
Top rec­om­men­da­tions include Col­lege Bound: Proven Ways to Plan and Pre­pare For Get­ting Into the Col­lege Of Your Dreams,the com­pan­ion work­book, My College Bound Plan, Your Col­lege Plan­ning Survival Guide: Smart Tips From Stu­dents, Par­ents and Pro­fes­sion­als Who Made It Through, and Pay­ing for College With­out Break­ing the Bank: The Ulti­mate Stu­dents, Par­ent and Educa­tor Guide to Over 500 Finan­cial Aid and Schol­ar­ship Resources  (http://tinyurl.com/l7ofafs)- Read more about book choices — click here.
 "Col­lege Bound" and the com­pan­ion work­book, "My Col­lege Bound Plan" guides you through the col­lege plan­ning time­line, the search and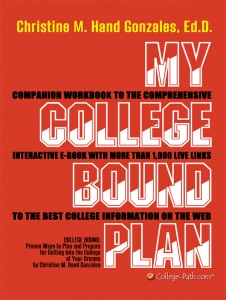 appli­ca­tion process, and cam­pus vis­its, with addi­tional tips and resources. It will show ways to approach coun­selors, teach­ers, or mod­er­a­tors to request an effec­tive let­ter of rec­om­men­da­tion, give tips on self-marketing through the col­lege essay, pro­vide sug­ges­tions for a top-notch resume of extracur­ric­u­lar activ­i­ties, and offer advice for tak­ing stan­dard­ized tests. If you are a bud­ding artist, a com­pet­i­tive ath­lete, or inter­ested in a mil­i­tary career, or tran­si­tion­ing from being home-schooled to col­lege, this book is for you. If you have spe­cial needs or a dis­abil­ity, this book is for you. If you are think­ing about learn­ing a trade or attend­ing com­mu­nity col­lege, this book is for you. Inter­ested in under­stand­ing the "nuts and bolts" of finan­cial aid and where to find schol­ar­ships? This book is for you. Look­ing for an exten­sive list of pub­li­ca­tions and inter­net resources that is beyond com­pare? "Col­lege Bound" is for you – giv­ing you all these resources and more.Each book offers time­lines, check­lists, reli­able inter­net resources and much more. See more books here!